Save with Kits
Oil-Cleansing Starter Kit
Cleanse + Pull + Detox = Healthy Skin
Shop Now — $60
Directions
Rinse with water then Wash with 2-3 pumps to cleanse pits, bits and any other areas that need a little extra love (cleansing, moisture or healing).
Rinse well and never look back.
Wash can also be used as a lotion, shaving cream, facial primer and moisturizer, or post-sun balm.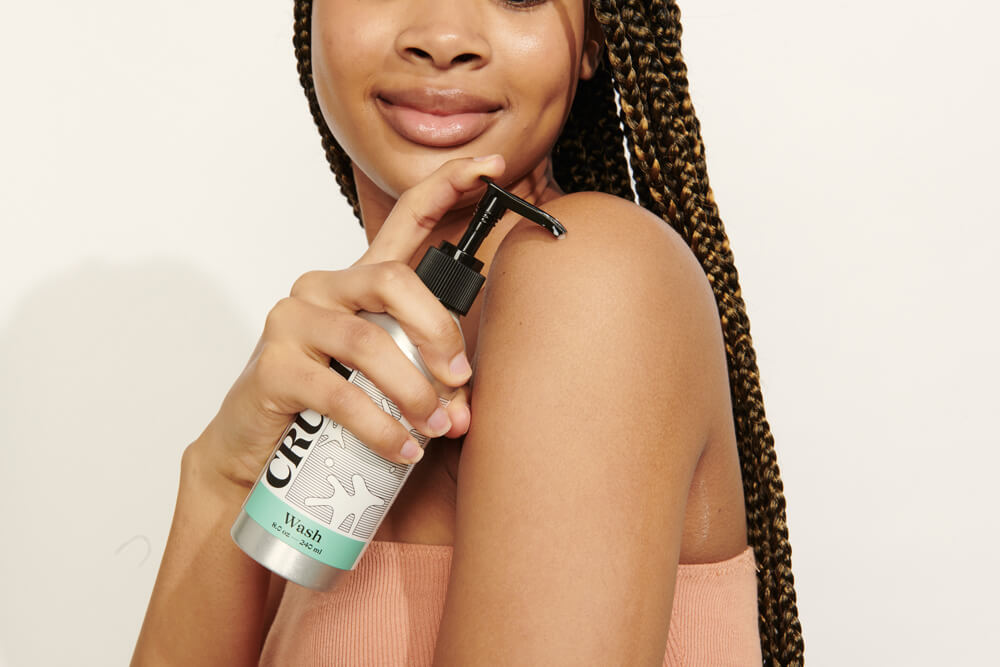 100% Certified Organic or Wild Grown Ingredients
Aloe Vera Gel
Sunflower Seed Oil
Leuconostoc/Radish Root Ferment Filtrate
Coconut Fruit Extract
Guar Gum
Bergamot Oil
Grapefruit Peel Oil
Lime Oil
Lavender Flower Oil

Tips & Tricks
Don't worry about using it all over your body
Just pits and bits. Water and friction alone do most of the cleansing work!
Stay consistent
Especially if you're struggling with a skin condition like acne, eczema, or rosacea.
Use Wash on its own
For maximum results, don't use any other body wash or soap products when cleansing.
Pair with Pull cloths
Try using with our Pull Cloths for an even deeper Wash.
Certified Microbiome-Friendly, for you and baby
Wash is certified Microbiome-Friendly, meaning it's proven to support the healthy, helpful microorganisms specific to adult skin, infant skin, as well as the vulva and vagina. Wash has helped thousands of customers soothe and heal their dry skin, eczema, bacterial vaginosis, and yeast infections by cleansing the body without disrupting its natural microbial superpowers.
Enjoy the extra shelf space
Wash can be used as a moisturizer or shaving cream and is the perfect post-sun balm. Wash can also be used on the face! Try it as a gentle cleanser or lightweight facial primer-moisturizer layered underneath your favorite CRUDE facial oil.
NO SOAP. NO DETERGENTS. NO SULFATES. NO PARABENS. NO ARTIFICIAL COLORS. NO ARTIFICIAL FRAGRANCES. NO SYNTHETIC CHEMICALS. NO HARSH EXFOLIANTS. 100% CERTIFIED ORGANIc.
Customer Reviews
Write a Review
Ask a Question
11/15/2023
Molly

United States
Be nice to your flora!
This is the only body wash I trust with my skin's (and more specific lady parts') flora. Other body washes affect me in some way--dryness, itchiness, odor, discharge. This keeps my body's natural ecosystem in perfect balance so I don't have those issues! Love how natural it is, too. Thanks, Crude!
11/12/2023
Elizabeth R.

United States
Eyes burning
I love what crude does for my skin, but the last batch of wash is burning my eyes every time I use it. I wonder if there is a recipe change? Thanks for reading.
09/14/2023
Callie

United States
Great Product; Faulty Packaging
This would have been 5 stars because I really like the Wash and was excited to try it. It smells amazing and does a great job. BUT the bottle it came in is faulty and the pump came broken, so I have to unscrew the top every time and manually dump it out to use it. For such an expensive product, this is really unacceptable to me and I won't buy it again for this reason. Too bad because I'm a loyal customer for the oil cleanser & bloom serum.
08/07/2023
Kim

United States
Love it more!
I've been using Wash to wash the "key spots" for years. I love the new, thicker formula! So much easier to get to the right places. It's gentle, soothing, but also cleans well and smells fresh without being overpowering. It doesn't irritate my skin or my more delicate parts. Huge fan!
07/28/2023
Tori R.

United States
Complete the Routine
Experience the skin-healing superpowers of our tried and true oil-cleansing system.
Cleanse

Oil Cleanser, Makeup Remover + Moisturizer

Convert Kit

Our Entire Line of Soap-free Skincare

Pull