What's Inside
Cleanse ~ 1 oz. ($20 value)
Our top-seller for a reason, Cleanse is a non-comedogenic oil cleanser that removes even waterproof makeup without wreaking havoc on your skin's natural moisture barrier or microbiome. Plus, it doubles as your moisturizer.
Pull ~ 6 Pack ($25 value)
Water and oil repel, so you can't rinse Cleanse with water alone. Enter Pull—our super-soft, super-absorbent cleansing cloth. An oil -cleanser's essential sidekick.
Detox ~ 1 oz. ($20 value)
With two simple and purifying ingredients, our Detox face mask polishes your skin without the inflammatory effects of scrubs or peels.
Bloom ~ 1oz ($40 value)
Made with super potent regenerative plant oils, Bloom helps soften scars and soothe and repair the skin.
Glow ~ 1oz ($40 value)
Our most moisturizing oil, Glow is great for dry skin, pre and post-shave care (works great on ingrown hairs!), and for softening beards, cuticles, and hair.
Wash ~ 8oz ($25 value)
Our one-of-a-kind soapless cleanser gets rid of stink without stripping and disrupting your skin. Made with plants instead of detergents, Wash works great as both a body wash and a moisturizer.
Directions
Massage a quarter-sized amount of Cleanse into the skin for 60 seconds, 1-2 times per day.
Wet a Pull Cloth with warm water and ring out. Lay on the face and take a deep breath. Then remove oil using small, circular motions. Pro tip: Remember to wash your Pull cloths after every use!
Moisturize with Bloom or Glow, depending on your skin needs.
Use Detox 2-3 times per week, or whenever your skin is feeling congested or dull, by thoroughly mixing one teaspoon of mask with one teaspoon of water. Apply with fingers or brush and let dry completely (approximately 10 minutes). Rinse with water alone or use Cleanse with a Pull cloth.
Apply a couple of drops of Cleanse to detoxed skin as a post-mask moisturizer.
Wash with 2-3 pumps to cleanse pits, bits and any other areas that need a little extra love (cleansing, moisture or healing). After rinsing completely, try a few pumps as your moisturizer, too.
If possible, avoid using other skincare products for at least one month to avoid interrupting the skin-healing superpowers of our tried and true oil-cleansing system.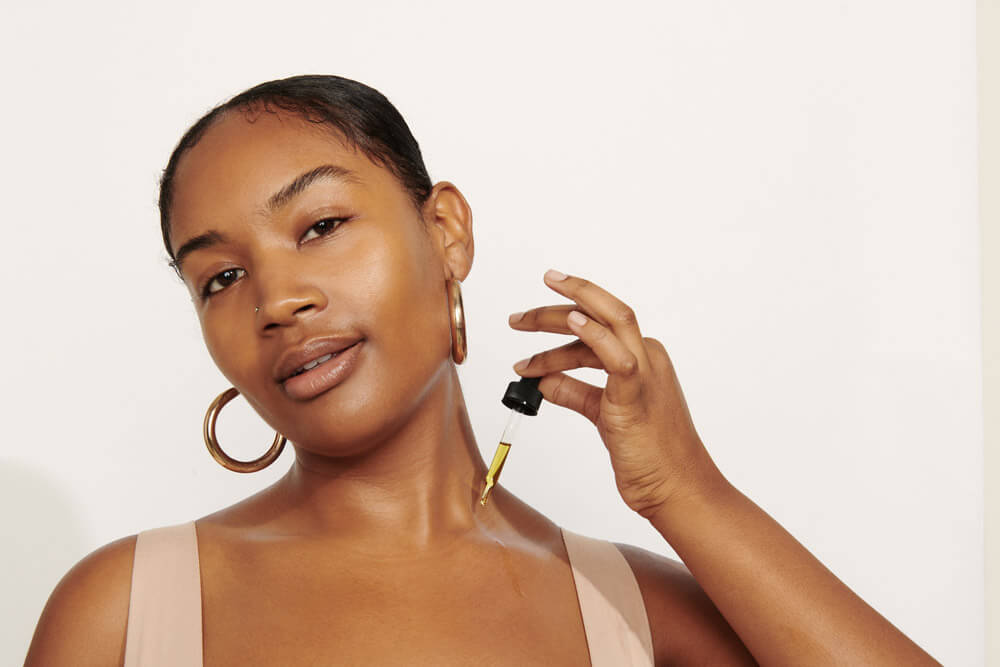 NO SOAP. NO DETERGENTS. NO SULFATES. NO PARABENS. NO ARTIFICIAL COLORS. NO ARTIFICIAL FRAGRANCES. NO SYNTHETIC CHEMICALS. NO HARSH EXFOLIANTS. 100% CERTIFIED ORGANIc.
Customer Reviews
Write a Review
Ask a Question
Love
Loving everything!! My face looks awesome and feels awesome!!
08/05/2022
Danette H.

United States
Smells Awful
I can barely stand the smell of all of the oils.
08/02/2022
Michelle C.

United States
Superb Products!
My skin is smooth, luxurious…and it smells divine.
06/22/2022
Shelby B.

United States
Loving it
I'm new to Crude skincare and I'm not sure what took me so long! I'm loving it so far! It's been 2 months and I'm noticing some really good changes in my skin! I'm so glad I decided to give it a try!
06/17/2022
Tricia D.

United States
I'm a believer!
I have been super happy with the product! My pores have actually shrunk, and I never thought that was possible, I am turning 50 this fall and my skin is looking healthier than ever!
Complete the Routine
Experience the skin-healing superpowers of our tried and true oil-cleansing system.