Save with Kits
Oil-Cleansing Starter Kit
Cleanse + Pull + Detox = Healthy Skin
Shop Now — $60
Directions
After using our Cleanse, thoroughly wet and ring out a clean Pull cloth, lay it on the face and breathe deep to soften and soothe skin.
Remove oil by gently rubbing the cloth in small, circular motions.
Be sure to wash Pull with a gentle, natural laundry detergent between every use and air dry to keep your cloths extra-absorbent.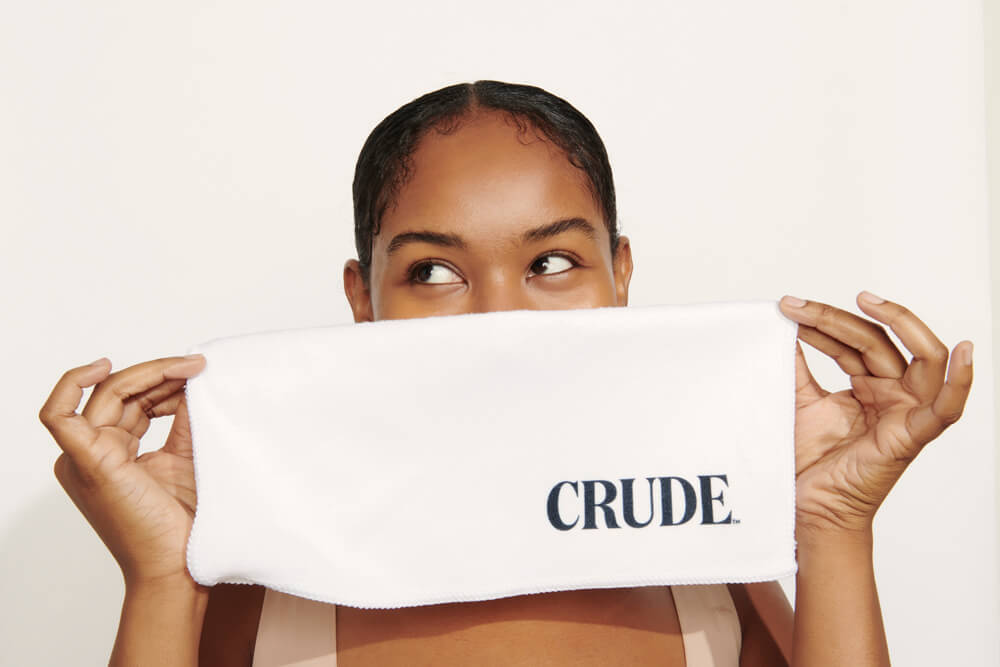 Tips & Tricks
Stay consistent!
Especially if you're struggling with a skin condition like acne, eczema, or rosacea. Use Cleanse and Pull at least once a day and try to use CRUDE on its own for at least a month to help your skin get back to homeostasis.
Keep 'em clean
Be sure to wash Pull with a gentle, natural laundry detergent between every use and don't use bleach or fabric softener during washes.
Always air dry
Air dry to keep your cloths extra-absorbent.
Try gray!
Try our gray cloths to reduce makeup stains.
NO SOAP. NO DETERGENTS. NO SULFATES. NO PARABENS. NO ARTIFICIAL COLORS. NO ARTIFICIAL FRAGRANCES. NO SYNTHETIC CHEMICALS. NO HARSH EXFOLIANTS. 100% CERTIFIED ORGANIc.
Customer Reviews
Write a Review
Ask a Question
11/17/2023
Brittany M.

United States
The best clothes, grey dye bleeds
I love these clothes and this system of cleansing. I have been using them for 6+ years and don't see that ending any time soon. I wanted to replace some of my older pull clothes and purchased the grey color. I wish there would have been a warning to wash separately first. I threw the new clothes in a load with my older white ones and the white clothes came out looking so dingy and greyish. It's not a huge deal. I'll still use them and buy again, I'll just stick to white moving forward and maybe Crude could add a note to wash the hey clothes separately?
10/12/2023
Melissa K.

United States
Not happy at all
I ordered these and they were never delivered so needless to say I'm pretty unhappy.
09/28/2023
Elsa

United States
Soft & effective
Leaves my face feeling hydrated and exfoliated without abrasion. I prefer the grey to avoid staining.
07/04/2023
Donna M.

United States
Still a problem
I used the body wash a few years ago and stopped because the plastic pump on the dispenser didn't work. Well, the problem hasn't been fixed.
05/01/2023
SONYA O.

United States
Love these cloths!!!
Yes they are great with the Cleanse product! I didn't expect them to make such a difference - they do! My fave feels sooooo clean! Can't do without them!
Complete the Routine
Experience the skin-healing superpowers of our tried and true oil-cleansing system.